Powered by nopCommerce

The B2B landscape is evolving from a traditional offline territory to an online one. The substantial growth of eCommerce platforms and the increased buying efficiency and effectiveness have made it the preferred choice for wholesalers, manufacturers, and distributors.
With a B2B eCommerce site, you can easily cater to all customers, keep track of sales and inventory, streamline processes, and improve profitability.
Key Benefits of B2B eCommerce Solution
ACCESS CONTROLS, ROLES, & PERMISSIONS
With role-based access control, restrict access based on the individual's role. Grant access to specific features and modules that the individual requires to fulfil their duties.
MULTIPLE PRICE LEVEL
For a B2B store, it's essential to provide competitive pricing and to have the ability to highlight various price points based on economies of scale. Whatever the methodology, it is critical to provide accurate pricing based on the account logged in and display potentially better price points to encourage increased ordering.
IMPROVED BUYER-SELLER INTERACTION
We take specific measures to ensure that buyer-seller interaction remains smooth and business can be conducted efficiently by providing an effortless way to create and submit inquiries, and purchase orders, by introducing modules like Quick Quote and Quick Order, thus facilitating an efficient negotiation process between the buyer and seller.
Modules of the nopCommerce B2B platform
B2B Customer Registration
Receive new applications for account creation requests
Accept specific approval documents, like certification files
Take specific inputs, such as trade license numbers, company details
Input expected transactional volume, company size, and other qualifying metrics
Input existing offline account ID to match an online account with an existing offline account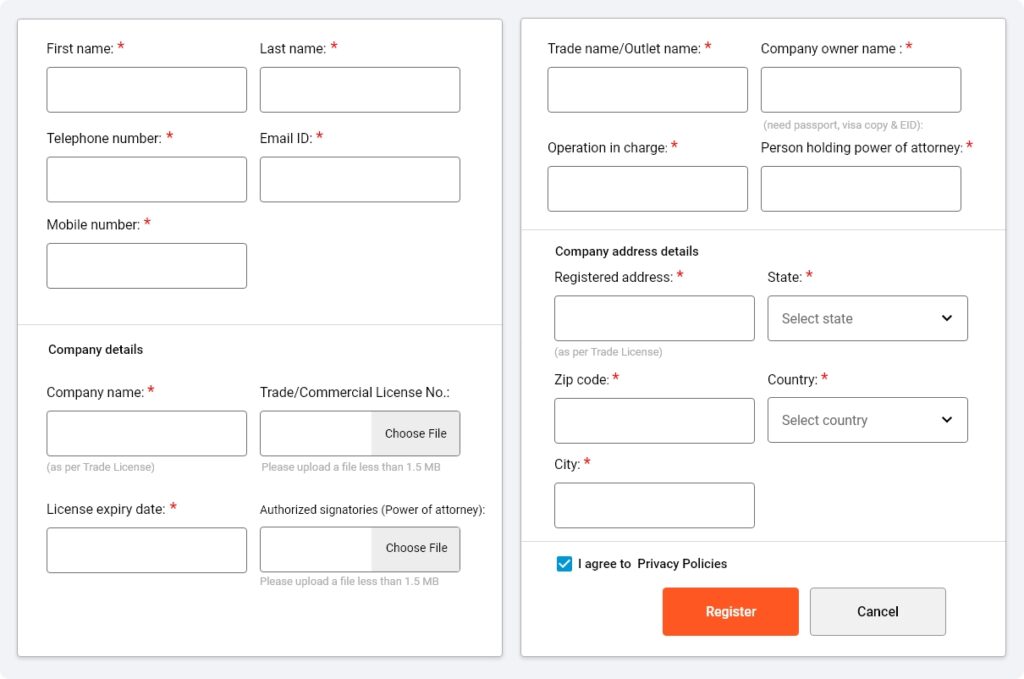 Pricing Tiers and Promotions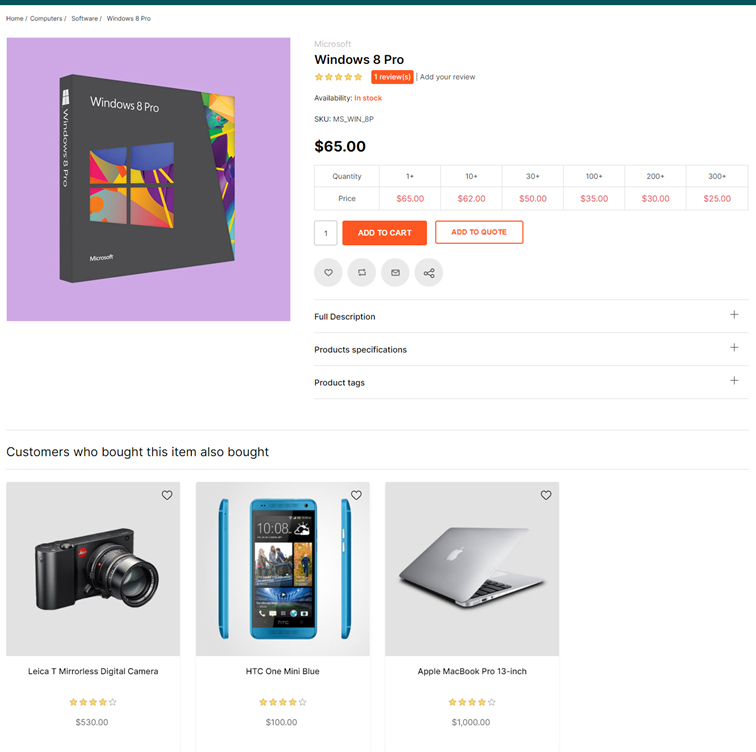 Customer Dashboard
The dashboard is a critical information management tool that visually tracks, analyzes, and displays KPIs that depict the health of your business. With this dashboard, view your Order history, Consumption Level, with intuitive charts and reports, Quote History, etc. These reports keep you on top of your business and help you in better management of business functions. The dashboard empowers you with a hawk-eye vision into your cumulative business functions and aids in real-time decision making.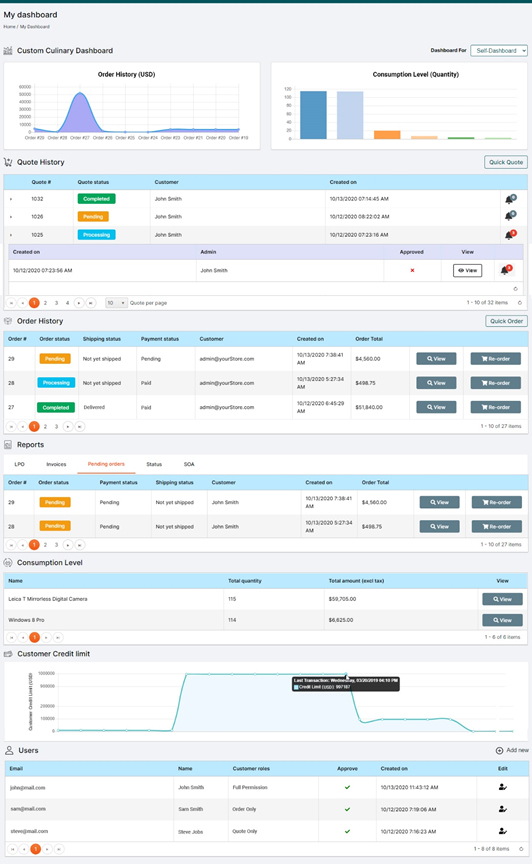 Product Details
Purchase multiple variants of a product (size, color, etc.)
View detailed inventory details such as warehouse location, etc.
View the MSRP and potentially a calculated margin
Display special sale/clearance pricing
Display quantity-based pricing
Display product name, description, advanced specifications, and other attributes
Download product files such as spec sheets, user manuals, warranty documents, etc.
View compatibility information with other products
View estimated delivery dates based on addresses an account has on file
Add secure member or customer-only support content for post-sale support,
such as downloads, warranty cards, etc.
USER ACCESS CONTROL
With role-based access control, restrict access based on the roles of an individual with the organization. Grant access to specific features and modules that the individual requires for the fulfillment of their duties. Protect the privacy of critical data without compromising on business functions and exercise greater control.
With Access Control Level, when a user requests for permission in an ACL-based security model, the operating system studies the ACL for a relevant entry and sees whether the requested operation is permissible.

Quotation and Negotiation Module
For bulk orders, often the quoted unit price does not apply and suppliers offer a discounted rate to satiate buyers and attract new customers. This module digitalizes the entire conversation history, saves time, and is an efficient method of doing business. Bulk ordering and negotiation between Suppliers and Dealers were never this easy!
During the negotiation process, the seller can do the following:
Add or remove products
Change the quantity and submit the Quote
Apply a discount to the total price
Add or change the shipping method
Add comments
Send the updated quote to the buyer to prepare a Purchase Order (PO), or save as a draft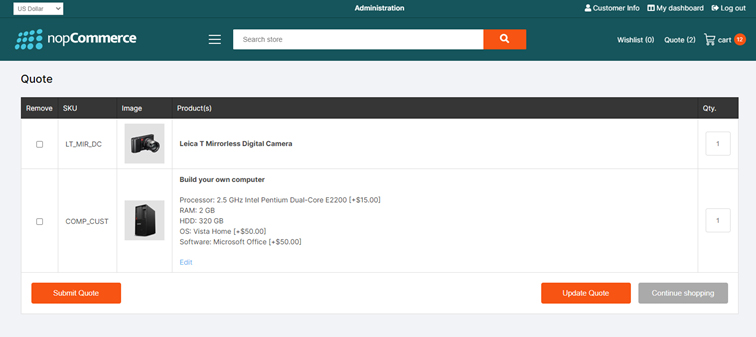 PRICE NEGOTIATION AND PO ACKNOWLEDGMENT
In B2B eCommerce, it's not uncommon for transaction totals to reach thousands or even hundreds of thousands of dollars. Using credit cards for transactions of that size simply isn't logical for many companies, so it's critical to allow the submission of Purchase Orders, with applied terms and conditions. However, offering this service requires work on a number of additional functional factors such as establishing credit limits, entering PO numbers, generating invoices, and tracking invoice payments to avoid mounting outstanding payments. In addition, the system should provide a process for an employee to initiate a transaction and then have it approved by someone in procurement or finance.
The system allows retailers to send multiple quotes to suppliers and manage conversations until a final payment amount is reached. Post this, a Purchase Order is created with the agreed terms and conditions applied.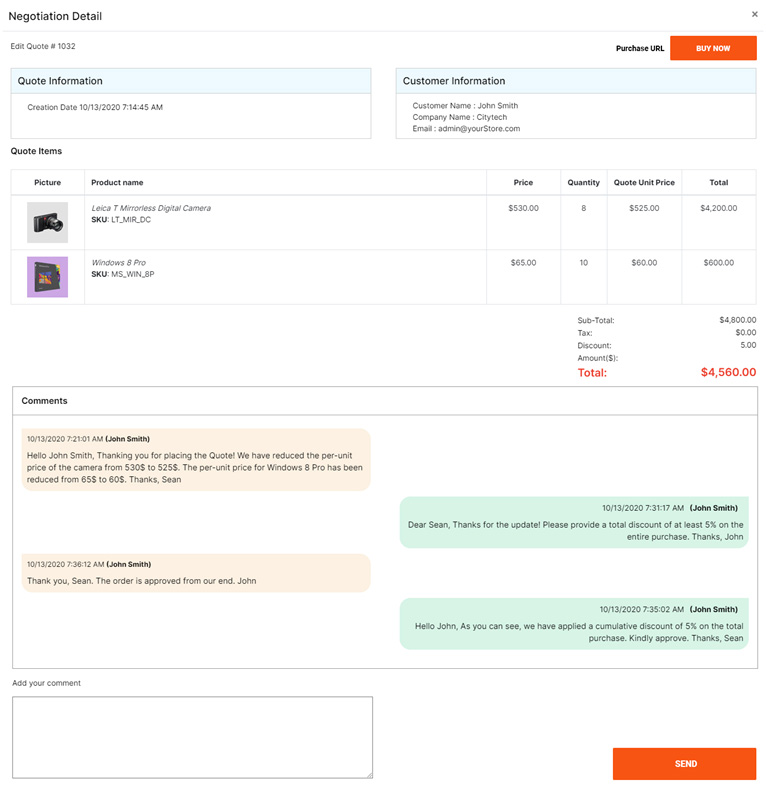 QUOTE HISTORY
While the quote is open for review by the Supplier, its status in the buyer's account is set to Pending. The buyer can change and resubmit the quote even if it was declined or is expired.
Retailers/Suppliers can view the entire Quote History with every price change reflected in the system. This also serves as a reference point for future transactions.
Add or remove products
Change the quantity and submit the Quote
Apply a discount to the total price
Add or change the shipping method
Add comments
Send the updated quote to the buyer to prepare a Purchase Order (PO), or save as a draft

On approving the Quote, a PO is generated with a Purchase Link. Retailers can click on that link to complete the purchase swiftly.
Order Management
View list of orders in the various states (new, processing, closed, etc.)
Edit any details of existing orders
Ability to cancel orders
View payment transaction information about orders
Place telephone or in-person orders via the administrator
Place wholesale orders at different price points
Fulfil orders including packing slips, invoices, and shipping labels
Ability to do partial shipping
Manage backorders
Ability for customer service to make comments on orders
Define order processing workflows so that orders can be moved through a series of steps easily
Customer Management
Search customer database
View related accounts, specifically those in a parent/child relationship
Ability for child accounts to belong to multiple parent organizations
Generate lists of customers that purchased specific products, which is specifically Important for issuing recalls
Create data segments of customers for follow-up marketing
Update customer payment information manually
Store custom data with the customer
View and edit pricing tiers for customers
QUICK QUOTE AND QUICK ORDER MODULE
B2B retailers generally order in bulk quantities, unlike B2C businesses. Therefore, to cater to this need there is a separate module called "Quick Quote Quick Order" from which retailers can simply type in the name of the product in the search box, manage the quantity, and place in the order quickly. Through this module, retailers don't have to go to each category to add products to their cart and can save a lot of time. Retailers can send these items for price negotiation to the supplier easily. This module is a blessing for those who are looking at streamlining work and reduce the time taken to painstakingly order items from each category.
RE-ORDER
Additionally, this module also equips retailers to swiftly re-order items thereby saving them the pain of repeating the process. In the dashboard, retailers can view their entire purchase history, view the items, and simply re-order the past purchase.

On clicking "Re-order", you are directed to the Checkout page to seamlessly complete the transaction.
MULTIPLE SHIPPING ADDRESSES AND SHIPPING RATE QUOTE
When placing large quantity orders, a customer may need to have items shipped to multiple locations as is required for many B2B dealers. Therefore, it is essential for the eCommerce application to determine the best location to send goods from when providing shipping rate quotes. Providing real-time, accurate, and competitive shipping rates is extremely important to gain new customers, satisfy existing customers, and optimize shipping costs and timing.
UP TO DATE INVENTORY AND 3RD PARTY ERP/CRM INTEGRATION
Customers will take the decision to order from company A or company B depending on who has the inventory and when it can be delivered.
It is important to make an inventory on the eCommerce system up to date.
It is important to note that product catalog, price, inventory, inventory levels, account information, and order/fulfillment details may need to be pushed and pulled from third-party systems such as ERP, CRM, Account, Warehouse Management, or other software applications to reflect correctly on the eCommerce store. In fact, both vendor systems and customer systems often need to be integrated. It's critical that the eCommerce system be able to easily integrate with these types of platforms and do real-time data handoffs when appropriate.