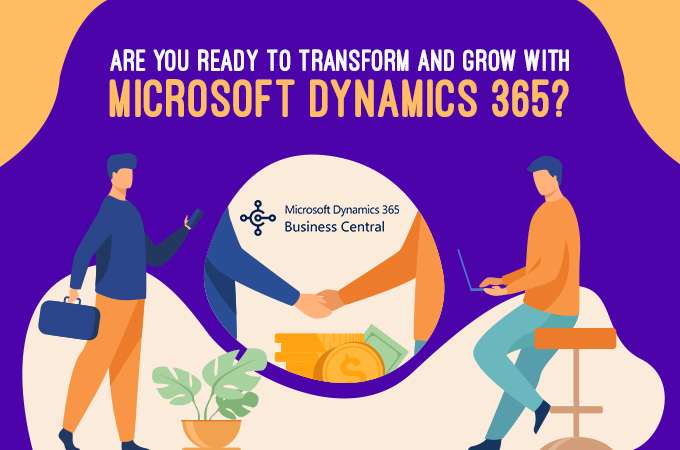 Technological advancement has put immense pressure on enterprises to take initiatives in becoming digital. There is fierce competition today in acquiring new customers and making them loyal to your brand. To do this successfully, customers need to embrace digital transformation techniques.
Modern businesses require a solution that can automate your processes and increase productivity. Microsoft Dynamics 365 has the right set of tools to help organizations embark on this mission. MS Dynamics 365 Business Central is easy to implement, user-friendly and supports the scalability of a business. It allows users to access key business activities from anywhere granting them the autonomy to stay on top of their business. Globally companies are already experiencing the benefits of automation and transforming customer experiences through it. Adopting digital transformation techniques improves customer journeys, accelerates operational efficiency, increases enterprise-grade security and mobility.
The major challenges faced by enterprises in the absence of digital transformation include:
The lack of standardization has driven many enterprises to consider digital transformation techniques. Standard procedures guarantee great quality of products and services and improve productivity levels in the organization.
Businesses that fail to justify their ROI are likely to be left behind by their competitors. This is again a case of a lack of a standardized mechanism to conduct and manage processes. The absence of proper reporting tools further creates an anomaly by impacting budget reports and future predictions.
Poor sales and customer service mechanism
A poor sales and customer service process directly impacts the bottom line and sets the organization for its imminent fall. As the world moves towards a customer-centric approach, the lack of a standardized process to address grievances, sub-par sales and services can turn off customers.
Absence of risk management
Every business is susceptible to sudden changes in the market like unexpected information breaches or equipment failures, fluctuating interest rates, etc. Without a proper risk management strategy, companies can fall into trouble without clearly defined goals and objectives.
Absence of data analytics
Every modern organization is today leveraging the power of data to gain vital insights into their business. Without data, there can be no future planning, growth scope, and the organization ultimately falls behind. The use of data reduces costs, increases productivity and revenue, and accelerates efficiency across the organization.
How can Microsoft Dynamics 365 help?
Overhauling your business processes may seem intimidating at first but the solution is made for the future and is an investment in your future growth. The right tools and processes can help you scale customer demands, anticipate buying behaviour, and build customer loyalty. Using a standalone CRM or basic accounting software can set you behind by ages. Microsoft Dynamics 365 unifies CRM and ERP capabilities by successfully bridging the gap between business processes, data, and customers.
The implementation helps you to stay away from complexity and simplify business processes by allowing you to focus on key business activities and connect with customers. It integrates seamlessly with other business suites, Power BI, Office 365, etc. and provides additional functionalities for marketing, customer service and other functions. Using the valuable insights provided by the software, managers can identify new product opportunities, anticipate and meet the needs of consumers, and provide better services in less time. With Dynamics 365, the finance team can monitor sales and expense reports in real-time, the sales team can project customer demand, improve processes and make successful sales forecasts. It connects back-office processes, brings in autonomy and reduces the continued reliance on manual and repetitive tasks.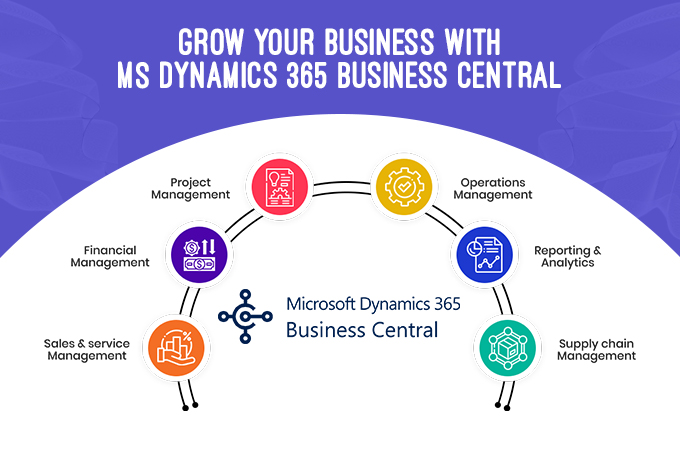 The top features and benefits of implementing MS Dynamics 365 include:
Connect better with customers by analyzing customer data and establishing a winning sales strategy.
It is a scalable solution that allows you to grow, simplify your finances, restructure your supply chain, re-evaluable your sales strategy, and make customer journeys a breeze.
Integrate multiple business applications like ERP, CRM, Office 365, through one unified platform.
Leverage the power of new-age technologies like IoT, Power BI, Azure Machine Learning and Cortana, to successfully transform your business processes.
Take your business anywhere you travel with MS Dynamics 365 BC. Get access to key business activities on the go across all your devices. Connect, share, and collaborate with your team in real-time.
The platform provides a single point of reference to quickly access, navigate and locate key information, thereby improving employee productivity levels.
Microsoft has built-in controls and role-based business workflows to keep your data centralized, safe, and secured at all times.
Improve customer communication and track interactions with meaningful insights from Outlook and other such apps.
Meet the changing business and customer demands with specific functionalities for marketing, sales, finance, customer service, retail, etc.
Use data stored in silos, and derive meaningful insights to reinvent your products and services.
Enterprises today need to be agile to keep up with the changing consumer trends and behaviour. Dynamics 365 is built to support the needs of growing enterprises and help them become scalable and profitable in the long run.
Citytech Software has helped many businesses to successfully implement MS Dynamics 365 Business Central and digitally transform their processes. A single, unified, and integrated application MS Business Central connects finances, sales, service, and operations while enabling organizational growth. To implement this solution for your business, contact us today: https://www.citytechcorp.com/company/contact-us/.