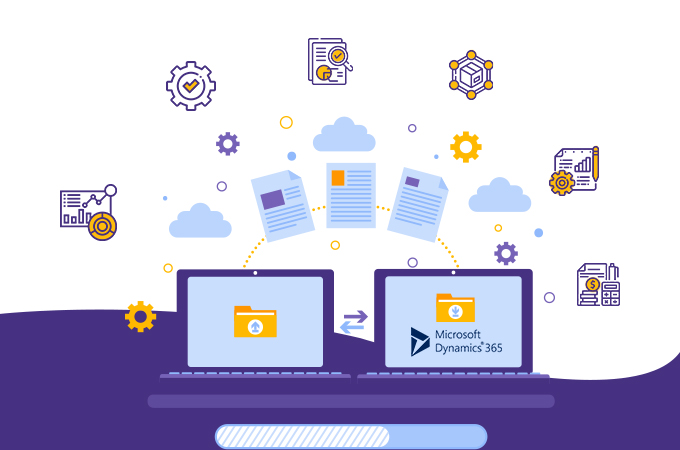 In this rapidly evolving business landscape, millions of companies globally are increasingly adopting digital tools to increase productivity and streamline key business functions. These tools are specifically designed to cater to a specific business aspect and help in the smooth functioning of processes. The change in customer behaviour, effect on supply chain due to the pandemic, altering work strategies has compelled many organizations to modernise and bring in digital marketing techniques. A CRM solution is a crucial solution to aid in this aspect.
Microsoft Dynamics 365 is a top-notch CRM solution provider in the market today. The software has helped countless businesses globally to automate their daily functions by providing the best-in-class experience and functionalities. The pandemic has pushed digital acceleration like never before. Technology partners serve as liaisons between Microsoft and individual companies and help in the successful migration/ implementation of different Microsoft solutions. Companies look for reliable partners who do not jump ship post-implementation but also assist with upgrades, customization and other patchwork.
Choosing the right partner is incremental to business growth and helps in making the journey much easier without any hiccups. Microsoft Partners are competent to handle any disruptions deftly and make the entire project successful. Listed below are qualities that any organization must consider in their Microsoft migration partner:
Necessary skillset
Migration is a complex process that requires specific technical knowledge to complete. Migrating from Dynamics CRM 2016 to Dynamics 365 is complicated and vary across organizations and industries. Ensure that your chosen partner has the credentials, required personnel, skills and resources to successfully implement the solution in the promised timeframe. Migration is a huge task that requires equal participation from all stakeholders and the right migration partner can help you stay on track and within budget. Microsoft offers certifications proclaiming an individual or organization to be knowledgable about the capabilities of Dynamics 365 Customer Experience and Dynamics 365 Finance & Operations. When finalizing a partner, it is important to consider their expertise in the entire ecosystem. Have they carried out a project of similar magnitude before? What was the timeframe? Did they provide satisfactory post-service arrangements? These questions should be thoroughly checked before embarking on this journey.
Impeccable customer service
Dynamics 365 is a fully managed software as a service (SaaS) and requires Partners to hold a Gold or Silver CBA certificate. Migration is a complicated process that requires a Partner to come into the aid of the organization several times. This means a Partner firm has to deliver impeccable service. Quality customer service should be a priority for any business. From the first interaction to the post-service period, your Partner should be accessible, solve any issues, and answer all legitimate queries. Conversations should yield actionable insights and the Partner should offer personalized tips and advice to make this process more smooth and seamless. Demonstrating their skill, eagerness, and expertise is important to judge before you invest. Read the service agreements carefully of potential partners and ensure that it aligns with your organizational goals. Ask questions whenever necessary to remove any ambiguity. The implementation plan should be clear with both parties understanding the clauses of the agreement. As an organization, you're entitled to a prompt, friendly and actionable response whenever you contact customer service.
Effective cloud management
When you adopt technology for your business, it is always done considering future business scalability aimed to keep you competitive in this dynamic business environment. For this, you need to ensure to tie up with a Partner that is innovative, embraces new technology, and has proven expertise in cloud technology. With Microsoft investing heavily in cloud technology, it is important to choose a partner that has expertise in Microsoft's suite of native-cloud business solutions. A Partner experienced in cloud technology has undertaken migration projects from on-premise solutions and has a clear implementation plan in mind. They have the experience to successfully guide the project to fruition. This will also ensure that they have an efficient and tested migration and implementation plan under their belt.
Transparent and invested in the project
A migration Partner should be forthcoming, honest and any changes to Microsoft's policies, goals, clauses, should be duly passed over to the client from the Partner. They stay updated with the latest technological advances and provide detailed information for documentation purposes. An engaged and invested partner will actively listen to you and work to fulfil your specific needs. They will map out your migration journey, remove the bottlenecks and will ensure that the process is carried out without any hiccups. An experienced Microsoft Partner is aware of the potential issues and can deftly manage the same. They understand your best interests and work to deliver the functionality while keeping the affordability factor in mind.
Expertise and aligned interests
There are a lot of Microsoft applications, so not all Partners will have the required skillset on a particular application. Before beginning the implementation, it is important to understand the certification and expertise of your chosen Microsoft migration Partner. Microsoft has three tiers of certifications for their Partners – Certified Partner, Silver Certified Partner, and Gold Certified Partner awarded depending on their expertise. Consider their experience in deploying Dynamics 365 efficiently across your industrial sector. In the beginning, it is important to understand the deliverables to avoid any mismanagement of goals and interests. Speak to industry friends who have already deployed the solution to gain a deeper understanding.
Migrating to new software is not a one-time process but will require frequent management, updates, and customization to stay updated. Your migration Partner is your "all-weather friend" who will make this journey easier for you through continued support and will not disappear after Go-live. Your implemented solution should evolve as time progresses and your Partner should ensure that the organization remains updated in a competitive business environment.
Citytech Software is a Microsoft Gold Partner from India that has helped countless businesses to adopt Microsoft Dynamics 365 and streamline their daily operations. Our Consultants have industry experience in handling complex solutions and delivering results on time.