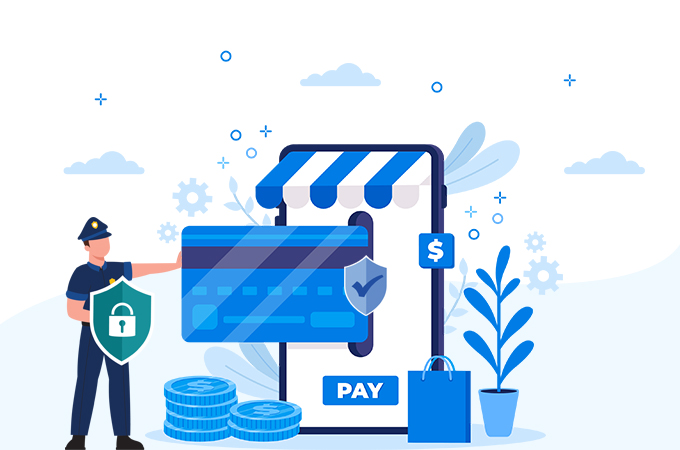 Online payment gateways have made things super convenient for eCommerce store owners and customers. But there has also never been an easier target for hackers and scammers. Payment gateways are immensely powerful and integral tools when it comes to online transactions. Customers coming to your eCommerce store place implicit faith that their payments will be secure and the transaction will be completed without any glitch.
In 2021, the forecasts show that the total transaction value by the end of the year will be $6.68 trillion. $4.195 trillion will come from Digital Commerce and $2.489 trillion will come from Mobile POS Payments. (Statista Market Outlook, 2021)
With consumers relying heavily on your online store, it becomes essential to secure your payment gateways and provide an exceptional customer experience. Cyber-attacks have become a very common phenomenon and threaten to obliterate your efforts in maintaining a well-secured payment system. Therefore, it becomes important to understand the quality of your eCommerce payment gateways to fend off any impending cyberattacks in real-time and provide a buffer on encryption between buyers and sellers.
A high-quality payment gateway reduces the load time and shopping cart abandonment rate.
As an eCommerce store, you must spend enough time on research to ensure that you partner with the right provider so that all your online transactions can be smooth, hack-proof, and secure.
A payment gateway is essentially a merchant service that processes card payments for eCommerce sites and brick and mortar stores. The payment gateway further screens orders, calculates tax costs and uses geolocation to provide location-based services.
Data hackers are on the lookout for vulnerabilities in systems to exploit and steal data. Though it is impossible to eliminate fraud, there are ways to secure data and prevent it from being stolen. But shoppers need to be provided with an assurance of completing their transactions using their preferred method while enjoying a frictionless experience.
Read to find out the ways to ensure that the payment process on your website is secure:
SSL Certification
As an eCommerce store, you should always partner with those payment gateways that have the SSL certificate. All the transactions of your store should be secured with the SSL protocol, which will encrypt the information so that card details and crucial data remain secured. How can customers figure out if the store is SSL secured? First, there is a padlock icon on the address bar, and secondly, the web address begins with HTTPS. Not only does this improve security but also assures customers that the store is secure to use. Not having a valid SSL certificate not only compromises your website but also drives away customers.
Tokenization
Tokenization has become one of the top priorities for small businesses that save card details for faster checkout. Having this de-identifies sensitive card information by assigning it with a string of random numbers known as "tokens". Since it is irreversible, hackers cannot commit any fraud even if they get hold of the information. The information hence can be easily sent through the internet or payment networks without being exposed. Check if your payment gateway partner can help customers tokenize their cards and go with the one that has a proper partnership with card network companies.
PCI Certificate
All merchants that store, transmit, or process card information need to be PCI Compliant. For non-compliant businesses, the consequences of a data breach can be disastrous and lead to fines and penalties along with reputational damage. The Payment Card Industry Data Security Standards (PCI DSS) spell out guidelines for merchants to secure sensitive data during payment processing. The right payment provider will follow industry security standards and provide data encryption as mandated by PCI. While payment gateways aid merchants in managing compliances, vendors must check before tying up with partners.
Implement 3D Secure Authentication
Three Domain Secure (3D Secure) is a messaging protocol that requires the involvement of three domains, the bank, the technology through which payment is processed, and the issuing bank. It prevents the unauthorized use of cards and saves eCommerce merchants from false charges during fraud cases. With this, the liability for every successfully verified transaction shifts to the issuing bank instead of the merchant. Customers are directed to an authentication page on their bank's website and they enter a password for their card or through a code sent to their phones. It adds an extra layer of security to online transactions.
Request strong passwords
To protect customer data, eCommerce merchants need to take all possible steps to ensure security. Ask your customers to use strong passwords for their accounts with a combination of capital letters, numbers, special characters, etc. of a minimum length to reduce the chances of hacking. Cybercriminals often use a combination of names, birthdays, and dictionary words to hack into user accounts. By using strong passwords customers can add an extra layer of protection to their accounts. In case customers forget their passwords, add a "forgot your password" process to your login system to allow them to access their accounts without any hassle.
Listed here are some basic rules that any eCommerce store must follow to ensure secure transactions on their website. Using the right solution for your business can significantly minimize the risks of fraud and hacking from merchants and customers.
Looking to develop your eCommerce store on the latest technologies like Magento, Kentico, nopCommerce, etc.? Get started with Citytech and establish your business as a brand to look out for in your niche. Visit https://www.citytechcorp.com/contact-us/