With the foray of online merchants into the world of eCommerce, the first thing that one should employ for a successful business is a Content Management Tool or CMS. CMS refers to a software application that can be used to manage the creation and modification of online content. Among various Content Management Systems available in the market, Kentico is considered to be one of the best because of the multiple benefits it provides.
Kentico is powering more than 23,000 websites globally and its market share is continuously rising.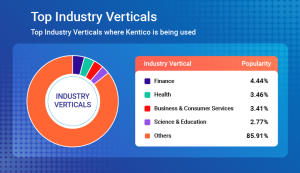 So what sets apart Kentico from a sea of other available CMS?
Read on to know more:
1. All in one solution
Kentico CMS offers an all-in-one functionality with eCommerce and online marketing platform developed in-house thereby saving the stress of dealing with multiple systems disparately and reducing the associated costs.
2. Ease of Use
Kentico is an easy-to-use platform for both developers and content editors and allows users to edit and update the system quickly, making company operations smooth and efficient. Anyone can easily add and update pages, add dynamic content, and create feature-rich websites. The biggest advantage is that an organization need not spend highly technical editors to maintain the website. Kentico provides easy to understand guides and tutorials along with blogs and videos on their website for users to guide them through the process.
3. Rich, customizable set of features
Kentico offers an extensive set of features and unlimited customization to fuel your creativity and make your site more personalized. Businesses can customize the site to suit their business requirements. The Kentico Administration site is comprised of two sections; the CMS Site Manager (which is used for site configuration and development) and the CMS Desk (which is used to update content and data). It offers an extensive range of customizable forms, page templates, and responsive design.
4. Increased functionality and features
Kentico delivers out-of-the-box functionality as compared to other CMS helping you develop stunning websites that can be deployed on-premise or on the cloud. Kentico CMS allows for eCommerce, blogging, forums, and other critical functions. The availability of such a wide range of features allows companies to grow their business without using multiple systems.
5. Smooth and Regular Updates
With the extensive support of Kentico, for the MVC model, companies can leverage the latest technological trend and frameworks designed to keep them future-ready. Kentico provides a step-by-step guide for every update and gives a solid, concise way of applying the updates. The all-new Kentico 12 is designed to provide users with a brand new CMS with increased functionality.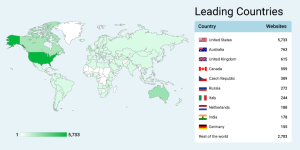 6. Security
Data security is a huge issue for corporations and the increasing number of data security threats, hacking, etc is keeping companies on their toes. In the modern world, it is very essential to adopt a CMS that values and protects consumer data security. Having a secure website is one of the topmost priorities for Kentico. With Kentico's advanced security features businesses should not be spending time worrying about website hacking or critical information being leaked.
7. Scalable
Kentico is exceptionally scalable and has an open API that allows systems to easily integrate with SharePoint, ERP, CRM, and other external modules without any third-party system or apps.
8. Support
Kentico provides 24/7 support to its clients from multiple locations, worldwide. What is exceptional is the 7 days bug-fix policy that it offers. So customers can report their issues and rest assured that it will be resolved quickly by the Kentico staff.
Kentico has recently released the Kentico 12, which makes your site faster than ever, provides a fast and functional CMS interface, easy to build forms, and increases the overall functionality of your website.
Citytech is a Kentico Gold Partner and helps businesses globally manage the upgrade of their website to Kentico 12 or implement Kentico CMS from scratch. We have a well-defined process for the upgrade and instant support for critical projects. Citytech provides tailored solutions designed to meet client-specific needs along with on-time delivery of the project.